Top 10 Watch Brands of 2023
The luxury watch brands to know (2023)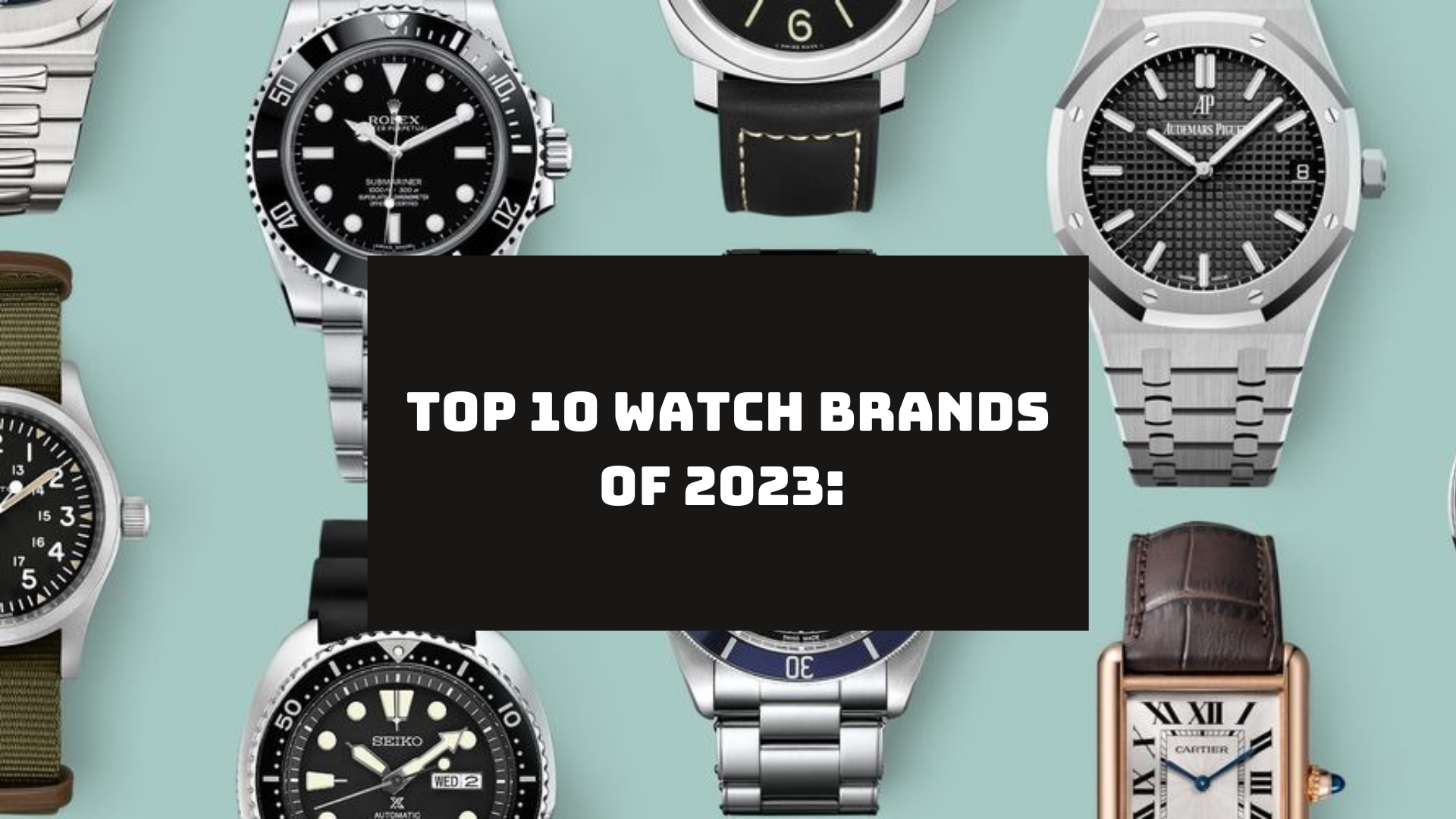 With time moving fast, keeping track of time is essential. Of course, you can do it with your phone, but why not do it with one of the world's best luxury watches on your wrist?
Luxury watches are undoubtedly the most timeless investment pieces. They never go out of fashion. On the contrary, their value continues to rise since they were bought. No phone can beat the exceptional elegance and rich history of a beautifully crafted timepiece. Checking the time becomes a rather exciting endeavor with one of these watches.
Top luxury watch brands all have two things in common: They have an impressive portfolio of iconic watches to their name and consistently meet the highest level of quality standards.
Not forgetting that a designer watch is also an enduring symbol of taste and class. Because what says luxury like a Rolex? What conveys distinction and fashion flair quite like a Patek Philippe?
In today's article, I will tell you about this year's 10 most-rated watch brands and their best-selling models. A demonstration of exquisite craftsmanship, incomparable aesthetic sensibility, and a passion for pushing boundaries have distinguished these brands as the best top-tier watchmakers today.
Number 10: Vacheron Constantin - The Oldest Continuously Operating Watchmaker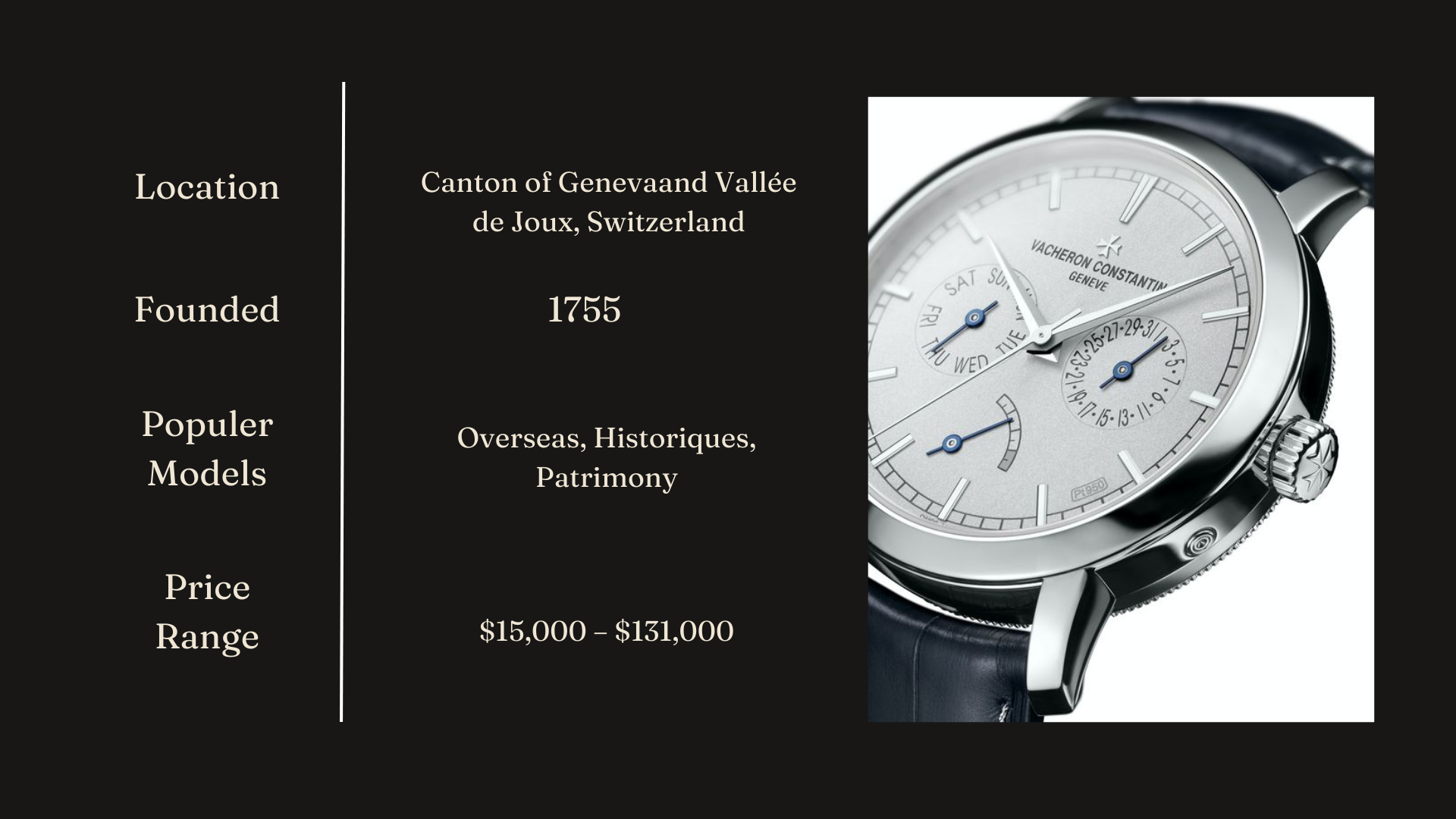 Tradition is palpable at Vacheron Constantin. The manufacturer was founded in 1755 and describes itself as the oldest watchmaker in the world. With 265 years of horological expertise behind it, this high-end watch brand has plenty of experience in producing quality and aesthetically outstanding timepieces.
But heritage and tradition only get you so far. Indeed, Vacheron Constantin continues to push creative boundaries and develop its technical capabilities and is unceasing in its delivery of exceptional luxury watches that owners will wear their whole lives.
What's more, the Vacheron Constantin workshop only produces a limited number of pieces. This not only guarantees that each one is made with the highest level of care and attention but also accords the brand with a level of exclusivity that can only come with rarity. Owning a Vacheron Constantin is like being admitted to an elite club. And did we mention that Napoleon Bonaparte used to wear a Vacheron Constantin watch?
Number 9: Richard Mille – New Classic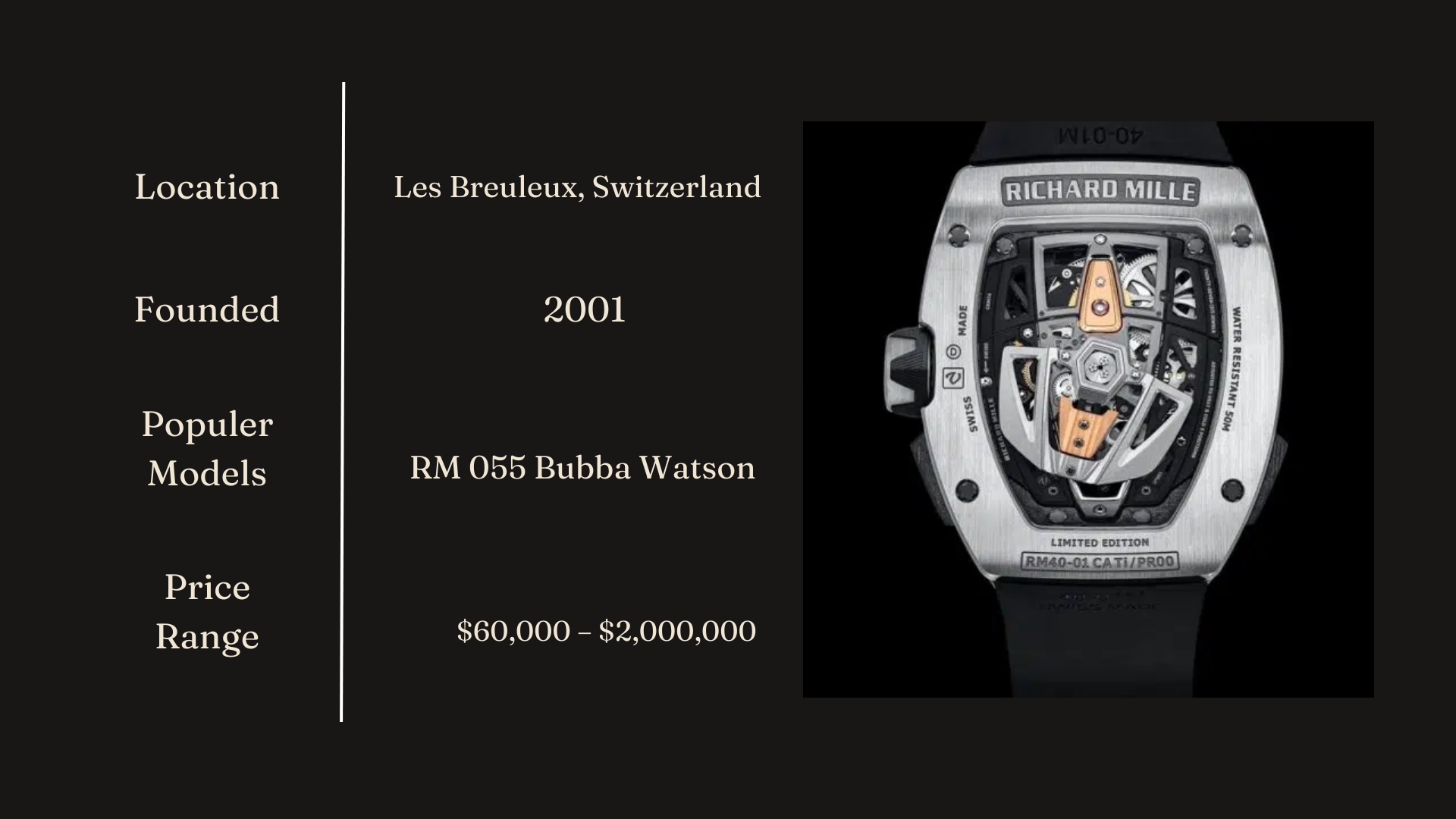 Relatively new to the world of luxury watches, Richard Mille was established in 2001 by partners Richard Mille and Dominique Guenat. The brand has made a large impact by pushing the boundaries of what's expected and traditional with movement complications, watchmaking materials, and design. Mille and Guenat imbued their passion for high-performance automobiles, aviation, and space exploration into the DNA of their brand.
Aside from the appeal of the aesthetics, one of the major selling features that Richard Mille promotes about their watches is their ability to withstand heavy impact movements. That's part of the reason why the brand partners with sports ambassadors from sports like Tennis (Raphael Nadal) and Golf (Bubba Watson).
Number 8: Cartier - More Than Just Jewelry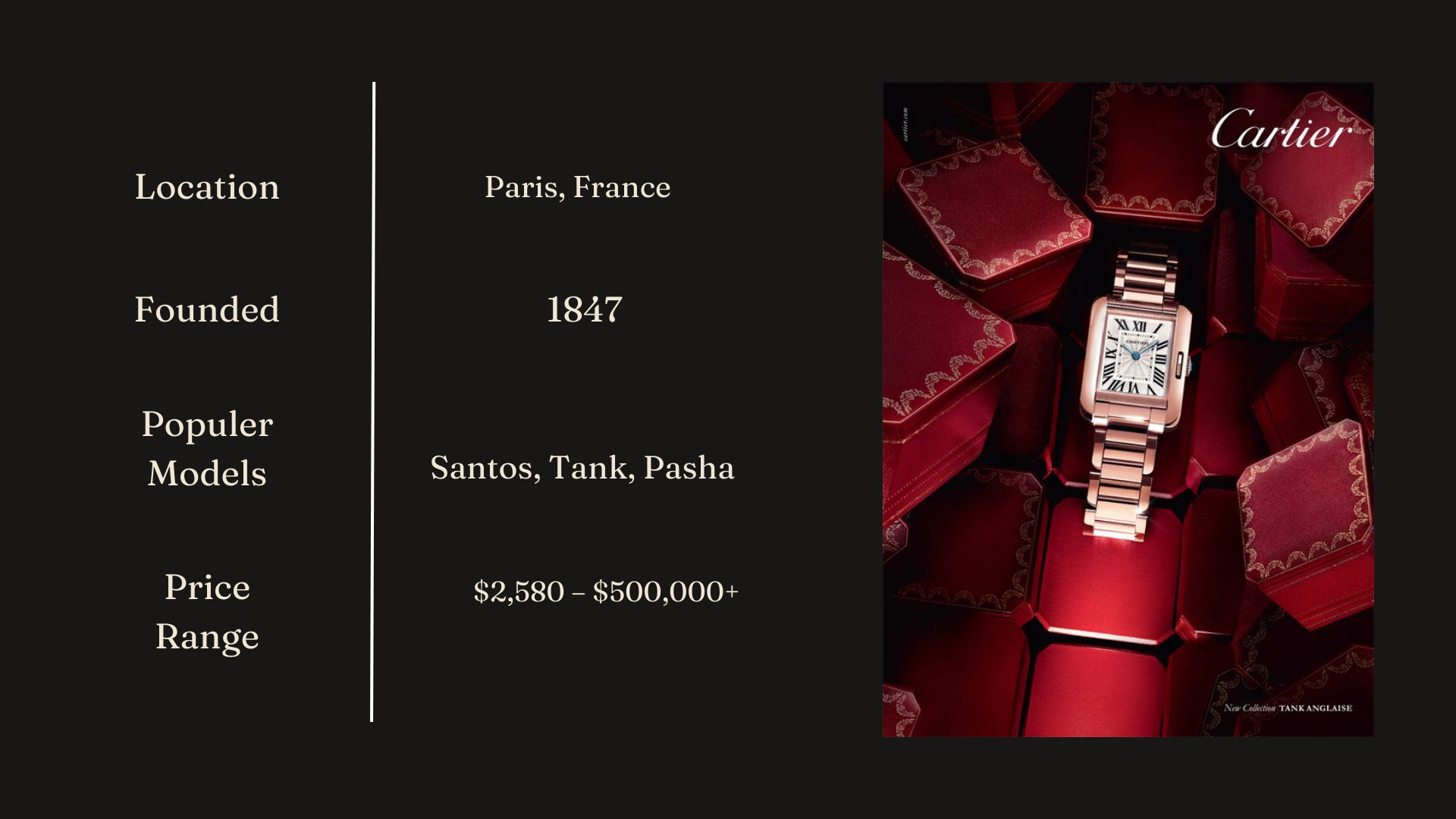 When someone says Cartier, the first thing you might think of is jewelry. Indeed, Cartier was famous as a jeweler to kings. But this world-famous designer started making watches.
Today, Cartier's range of luxury watches are some of the most famous on the market and the brand has established itself as a major player in the watchmaking industry. Among the models, the 'Tank' is the best known
Besides the Cartier Tank, the Cartier Santos, the world's first pilot's watch, also deserves a mention. The latter dates back to 1904. Although its appearance has hardly changed since its debut in 1911, Cartier has updated some features, including adding a quick-change system for the bracelet and links.
Number 7: IWC Schaffhausen - From Pilot's Chronographs to Dress Watches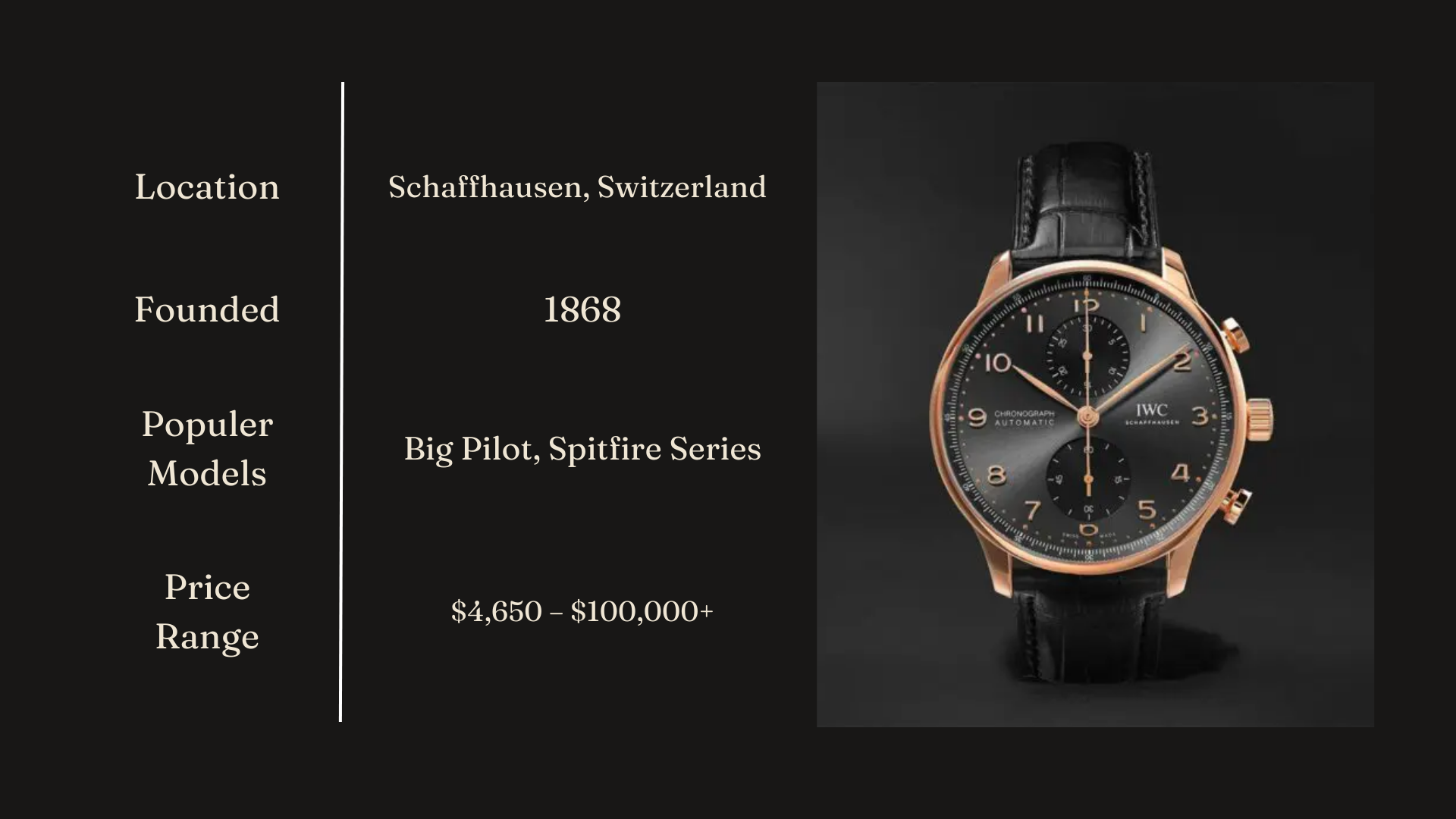 The International Watch Company (IWC) was founded in 1868 by a Bostonian: Florentine Ariosto Jones. The company created a name for itself by bringing together innovative new American production techniques with the traditional skills of master Swiss watchmakers. While the majority of Swiss watch manufacturers are located in the west of the country, IWC Schaffhausen is located in the east, where it makes use of the Rhine River for hydropower.
Indeed, for eco-conscious consumers, a major advantage of an IWC Schaffhausen watch is the company's commitment to sustainability. They were the first Swiss luxury watchmaker to produce a sustainability report to Global Reporting Initiative Standards, setting out their sustainability targets.
Number 6: Jaeger-LeCoultre – The Watchmaker's Watchmaker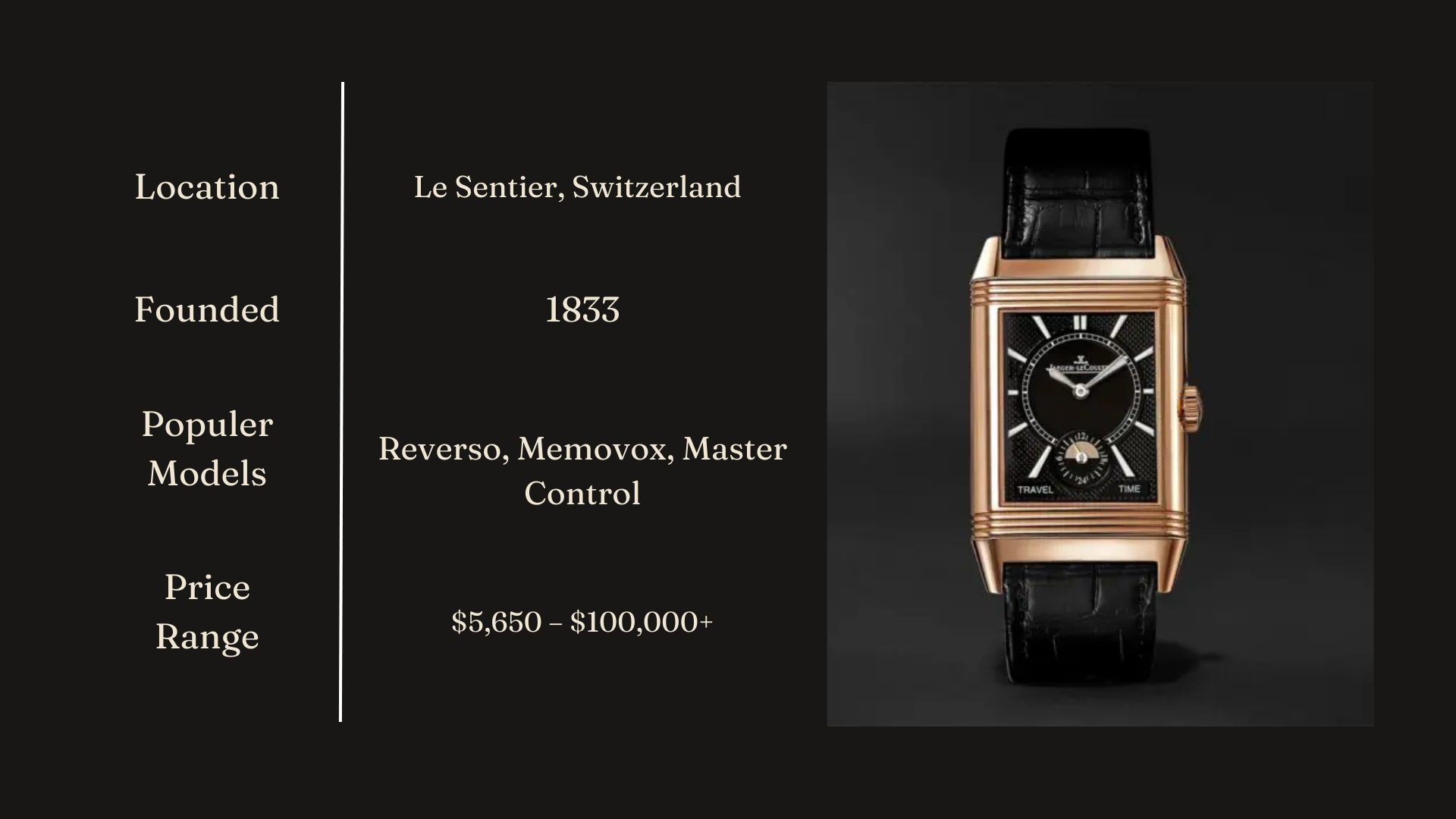 If you're looking for a luxury timepiece that will turn heads, then you have to see the collections of high-end watch brand, Jaeger-LeCoultre.
Jaeger-LeCoultre is known within the industry for its inventiveness. JLC has developed over 1,200 individual calibers and holds 400 unique patents—a testament to its capacity for cutting-edge design. Take, for example, the brand's Reverso collection, born in 1930 at the peak of the Art Deco movement. With its legendary rectangular design, it's a horological great—and the perfect unisex watch.
Number 5: Omega - The Eternal Number 2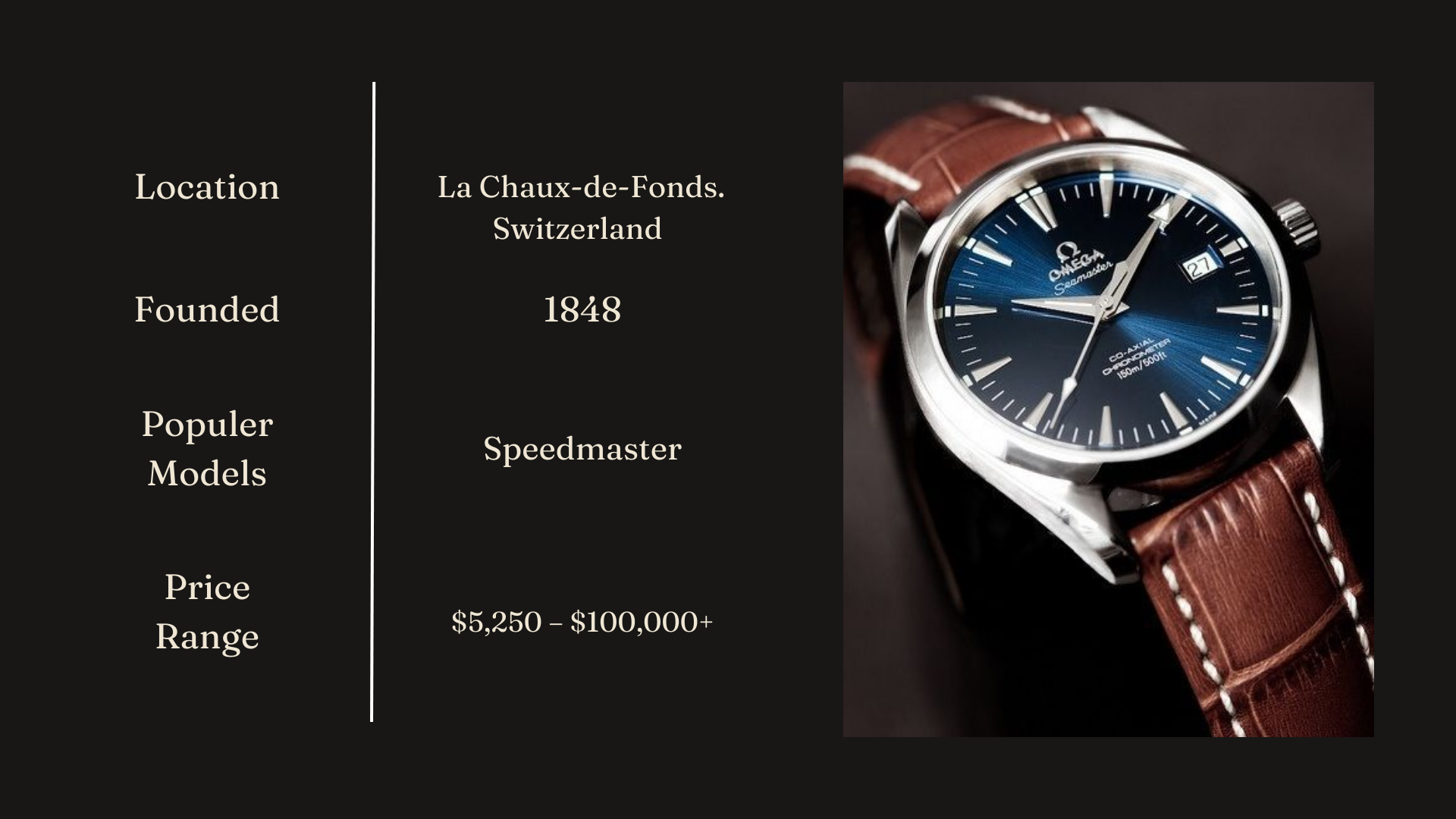 The first brand from the Swatch Group on our list, Omega has been delivering exceptional luxury watches to horophiles and watch collectors for more than 170 years.
Omega watches have traveled to the North Pole, been launched into space, and descended into the depths of the ocean in submarines. As a consequence, Omega has gained a reputation as one of the most successful wristwatch brands in the world.
Founded in 1848 in a small Swiss village under the name Louis Brandt & Fil, the company launched its first series-produced caliber—the 'Labrador'—in 1885. In 1892 they introduced the world to a minute-repeating watch—the first of its kind. In 1894, they produced the Omega caliber, whose success prompted a change of name to the Omega Watch Company.
Since then, the pace of success has hardly slowed for Omega. Indeed, Omega watches have broken several precision records. At the 1931 Geneva Observatory trials—nicknamed the Olympics of watchmaking—Omega came first place in all six categories.
Number 4: A.Lange & Söhne – German Classic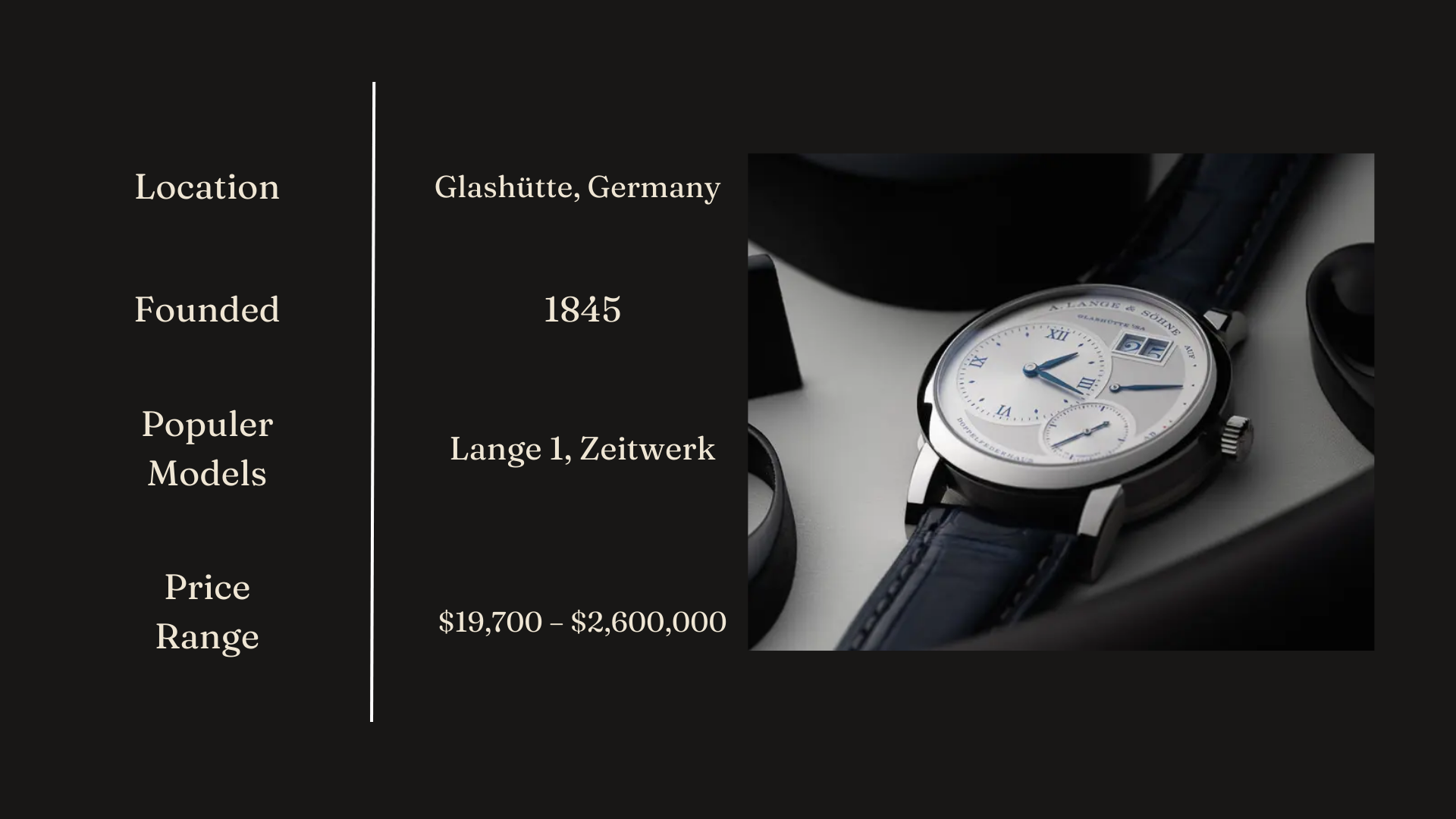 A. Lange & Söhne serves as the highest standard of excellence that most German (and non-German) brands hold themselves against. The brand was responsible for establishing Glashütte as the heart of Germany's watchmaking culture after Ferdinand Adolph Lange opened his workshop there in 1845.
While the brand initially started crafting elegant pocket watches, A. Lange & Söhne had to pivot towards producing timepieces and equipment for the military during WWII. The end of WWII also technically brought the end of A. Lange & Söhne when the Glashütte factory was destroyed in the final days of the War.
Number 3: Audemars Piguet – Inventor of the Steel Sporty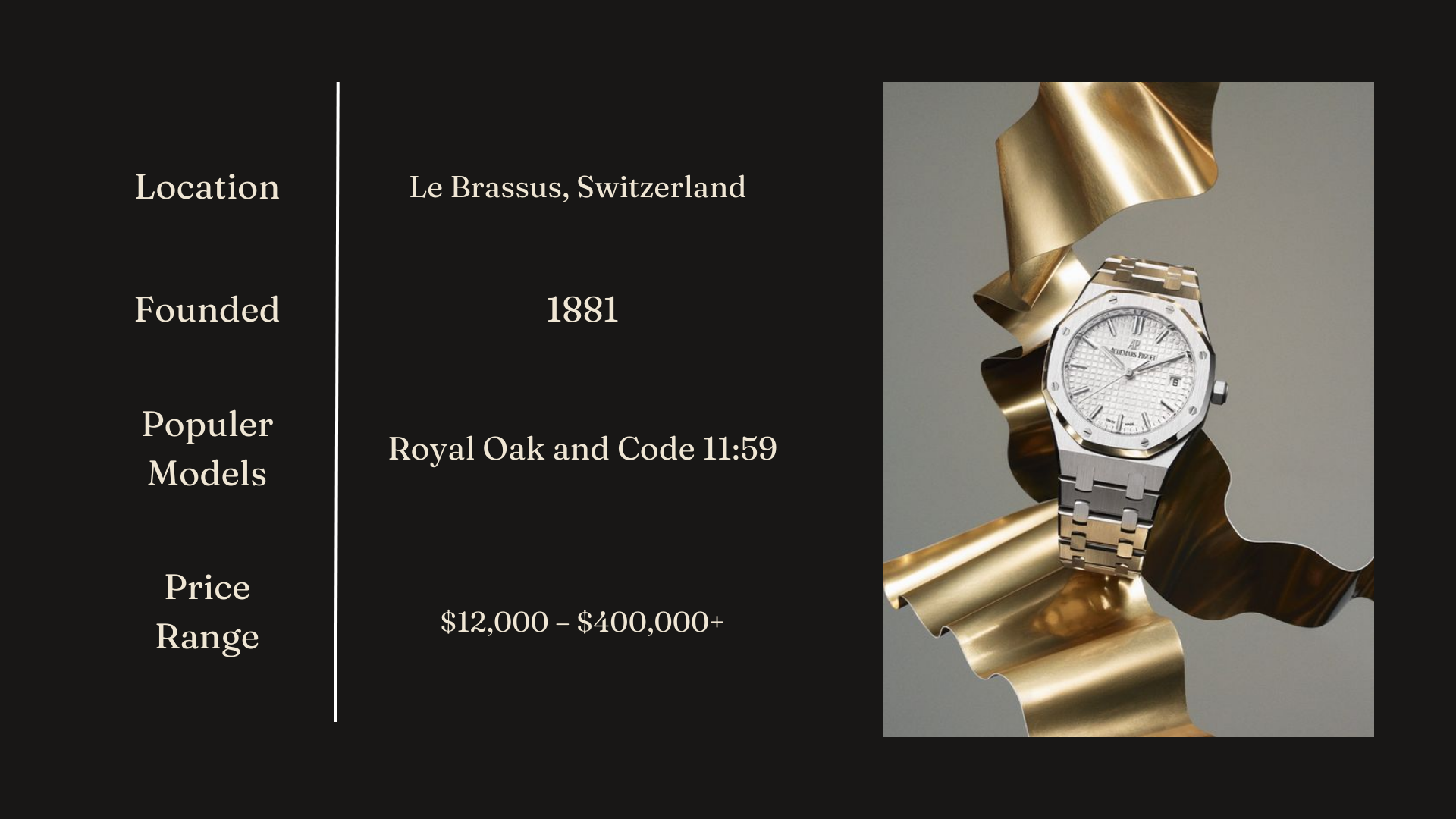 Jules Louis Audemars and Edward Auguste Piguet were childhood friends who would eventually grow up together and start one of the most influential luxury brands in horological history. After taking their careers in two different directions within horology, the two friends reconnected and officially founded Audemars Piguet & Cie in 1881, basing themselves initially in Le Brassus, Switzerland.
While Audemars specialized in crafting complex watch movements, Piguet focused primarily on the regulation and accuracy-achievement of timepieces. Once fully incorporated and partnered, the brand went on to establish itself not only as a core luxury watch brand but also as a horological technology innovator.
However, their largest and most well-known contribution to the watch industry is the Royal Oak. First introduced in 1972, the Royal Oak was positioned as the world's first luxury sports watch.
Number 2: Patek Philippe – Refined Timepieces and Prestige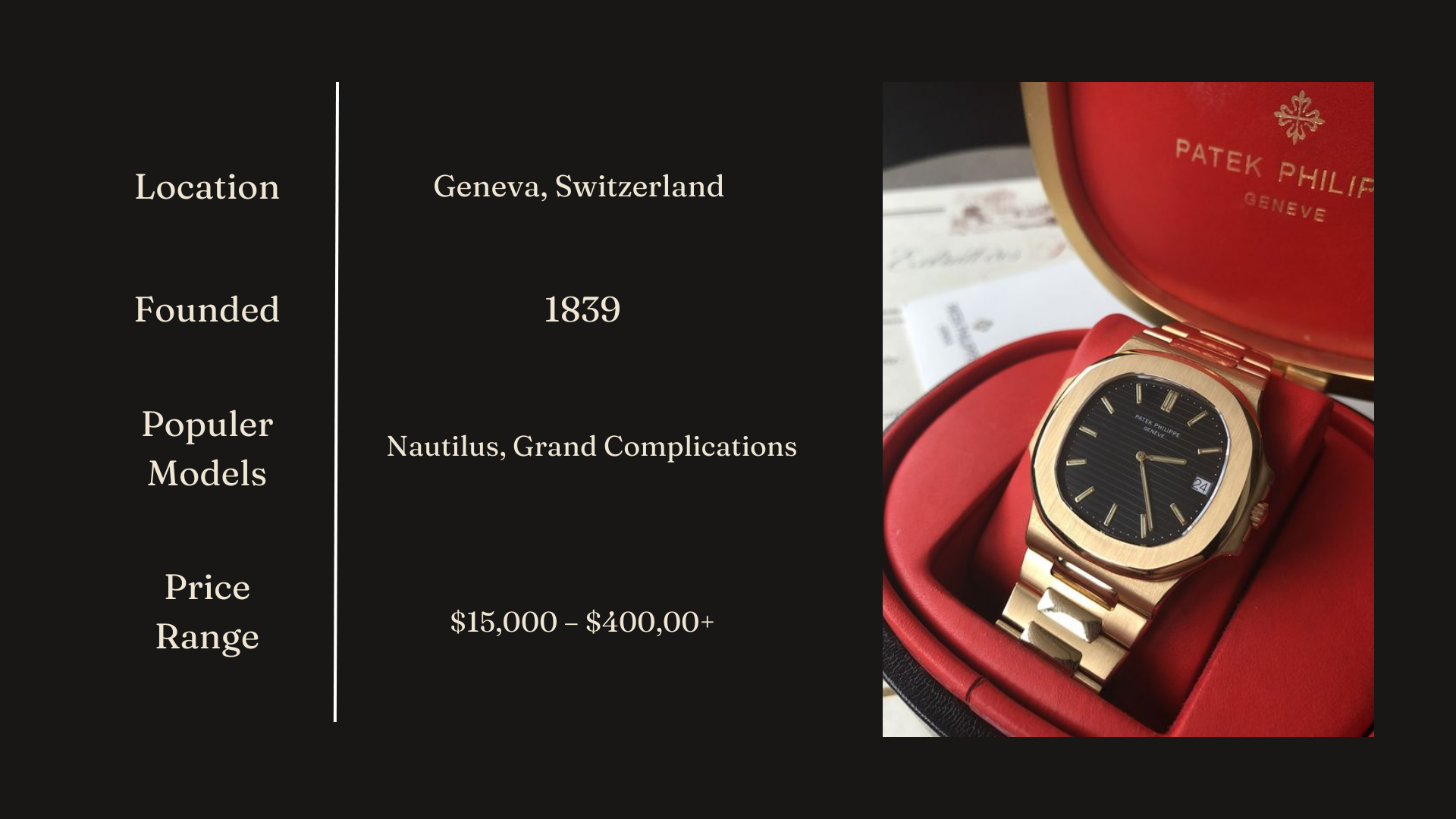 The last family-owned independent watch manufacturer left in Geneva, the company was founded in 1839 and has remained in the hands of the Stern family since then. This continuity of ownership allows Patek Philippe to maintain its unique identity. The brand takes its creative freedom seriously.
Indeed, it's Patek Philippe's unparalleled approach to design that has allowed the Swiss manufacturer to achieve status as one of the best watch companies in the world.
Number 1: Rolex – The Leader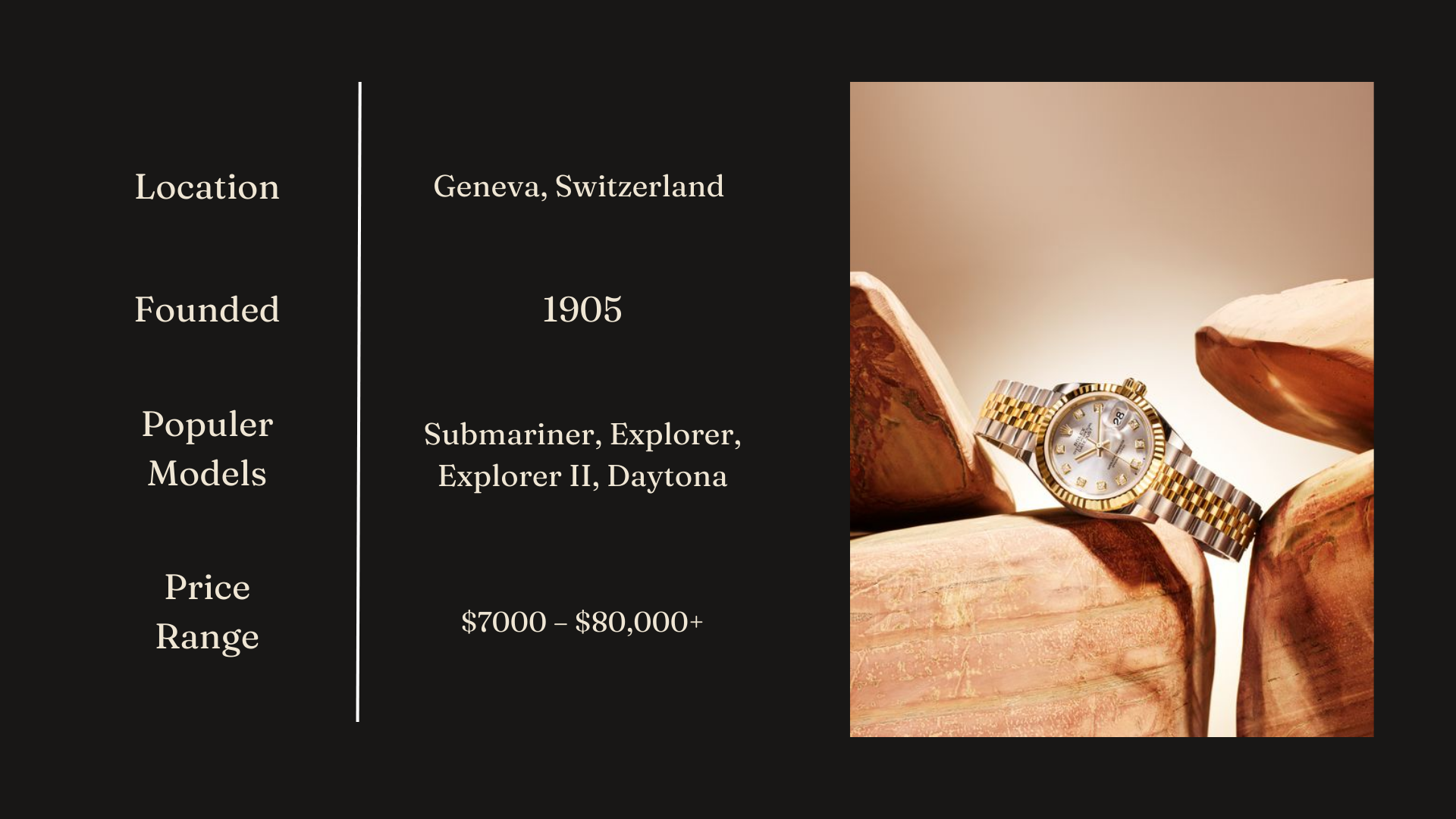 Last but not least is our number one top watch brand of all time: Rolex. The brand with the crown is responsible for the creation of not one, but many iconic watches with timeless designs and great histories. Timepieces like the Rolex Submariner and Rolex Datejust are often imitated but never duplicated. The Rolex Submariner is the most replicated watch in the world and has certainly earned its reputation as a status symbol.
The company was the first to patent a waterproof watch: the famous Oyster model. They also brought the first self-winding watch to the market in 1945. A Rolex is also one of the favored timepieces of the world's most famous spy, James Bond—further evidence of Rolex's commitment to all things daring and intrepid.
The brand prides itself on its dedication to quality, on continuously improving its offerings, and on delivering enduring excellence to its loyal customers. In a world of mass-market consumerism and disposable fashion, this is a brand whose designs are guaranteed to last a lifetime. Rolex watches can appreciate over time. Globally recognized and highly coveted, Rolex's status as one of the best luxury watch brands in the world sees few competitors.